salam to all readers and beautiful bride to be...
alhamdullillah...25 years..allah grant me a beautiful journey as a muslim in this duniya...i must say grateful and thank you ALLAH...
tapi everyday pasti ada ujian yang beri utk kita learn something..hanya orang yang sombong dan rugi je yang tak mahu learn from ujian yang allah beri dan menyalahkan setiap manusia di atas muka bumi...
so today as usual...allah give me a lesson...lesson for me to learn...=)
ok intro about my day today dah tamat...
lets talk about wedding prep..
hmmm tudung...
miza cerewet...yes i'm too fussy...tak nak itu..tak nak ini..nak yang itu..nak yang ini...tapi i'm fussy with certain things yang memang i have to..bukan la fussy tak bertempat...
nak cari tudung yang betul2 menepati citarasa miza yang sememangnya pakai tudung besar ni memangla payah...
memang ramai orang jual...tapi entahla hati tetap kata...bukan diri saya...saya bukan begitu...
ok kadang2 memang teringin dan jeles dengan orang bergaya sakan dan boleh kata the vogue la...tapi bila pikir...
dirimu tetap dirimu..allah dah tetap dan memilih memang insan bernama ini akan menjadi insan sekian2..
ok saya full stop dan akur dengan diri yang memang sejak dari bangku sekolah memang jenis yang tak kisah...huhu...
umur dah tua ni je la baru nak mula2 cebur diri skit2 at least i loook simple dan kemas...that's it...itu pegangan saya...
nak tengok orang lain...itu orang lain...saya memang tidak boleh menjadi orang lain...kalau cuba jadi tak betul rupanye...hahah...ok penah try tu yang berani cakap...huhu..
ok sekarang ni utk tudung nikah...
yes pening!!!
sebabnye baju tu jenis chiffon...
kalau pakai tudung yang bukan chiffon...dianye keayuan akan tercalar sedikit..hahah..mengada sungguh..
miza dok pikir nak pakai tudung lycra heliza pakai...sebab tudung tuh je la yang menepati ciri2 miza..tapi dok pikir...boleh ke...masuk ke lycra dgn chiffon...adehla..pening...
pastu 1 lagi jenis kain adalah satin...i love this fabric...even before this satin shawl glamor..miza sangat suka tudung jenis ini...sebab dia comel...tapi yela dulu mana ada fabric ni..jarang...sekarang je dah berlambak2 orang jual...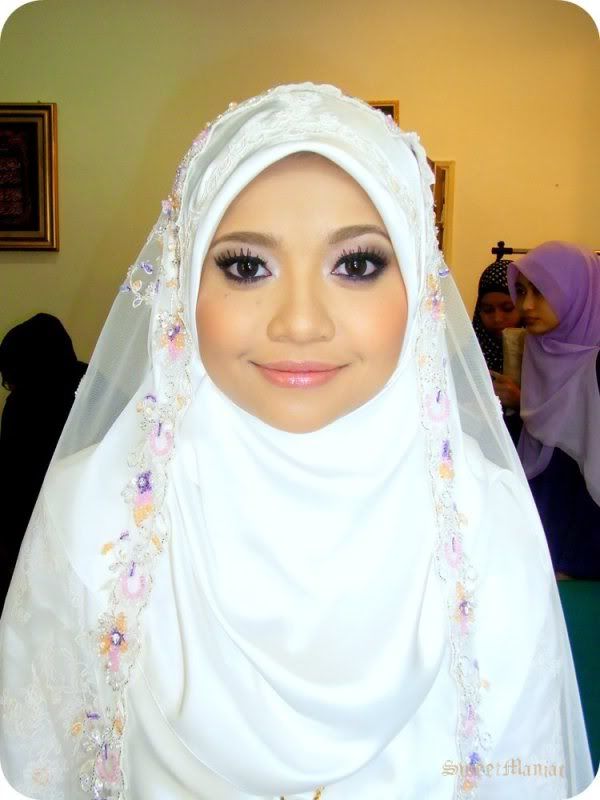 my friend's sister denabahrin...like her tudung..simple...maybe nnt cntct dia suh dia ajar camner nak pakai tudung gaya ni..hahah..ntah ape2 miza ni...tu pun nak suh orang ajar..haha..
pening kan??
hahah...korang ada idea...tudung ape paling best nak pakai time nikah...yang tetap nmpak keayuan dia..hehe..
okla sweety semua..have to go...mata dah terlalu berat...need to sleep...